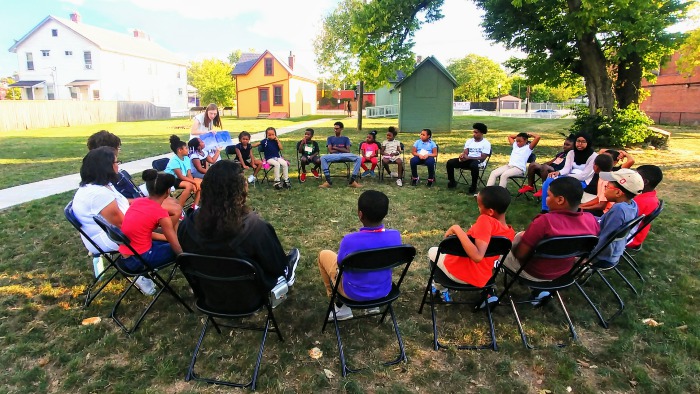 Cover photo: The Rickenbacker-Woods Foundation kids take part in an outdoor literacy class. (Photo courtesy of Michael Aaron. Taken in September 2019.)
All over Envoy we have employees that are not only hard-working airline aficionados, but also spend their time outside of the airport dedicating their lives to something else very special. Whether they are a breakdancing aviator or a surprisingly strong competitive weight lifter, Envoy has some of the most skilled, talented and devoted employees in the industry. 
At John Glenn Columbus International Airport (CMH), we have a Lead Agent whose special skill is his leading with his heart. Mike Aaron is a Columbus, Ohio native who is also the Executive Director of the Rickenbacker-Woods Foundation (RWF), a non-profit that provides after-school programs and other resources for elementary school children in the Columbus area.
As the pandemic forced schools and businesses to close all over the world, Mike and the RWF "became very concerned about the nutritional aspects of our kid's especially knowing that many parents overnight became unemployed," Mike said. As a response, the RWF teamed up with a couple of area non-profits and restaurants to deliver meals and care packages to the many students the RWF serves.
Let's hear from Mike all about his passion for aviation and serving the community in this special Q&A.
Born to give back
What's your background and how long have you been with Envoy?
I am 40 years old. I was born, raised and still live in Columbus, Ohio. I was hired by Envoy in June 2019 when I was hired as a part-time Customer Operations Agent, and now I'm a Lead Agent at and a member of the CMH Station Safety Committee.
But, I worked in the airline industry before. When I was 19 years old, my childhood dream came true, and I was hired by an airline in 1999. I started on the ramp and worked my way up to the ticket counter.
I left the airline in 2002, but I'm grateful that almost 20 years later I again get to smell jet fuel in the morning. Once in the airlines, it never leaves your blood.
How did you become the Executive Director of the Rickenbacker-Woods Foundation? 
The boyhood home of Captain Eddie Rickenbacker is located in the historic Driving Park neighborhood on Columbus' southeast side. I have lived in this community for over 25 years; I grew up here with my family.
Since my early twenties I have been involved in the community in one way or another. I have served on the board of our civic association, organized community clean-ups,  and gathered sponsors to support our neighborhood cook-outs.
What other organizations did you collaborate with to help provide care packages and meals for kids?
When schools closed down, we put out a call to FoodRescue, a non-profit located in many cities nationwide, and they delivered 165 meals every week donated by local restaurant Hot Chicken Takeover.
So far our staff has distributed well over 500 meals to our families and neighbors. Knowing that our young scholars are used to the fun science experiments, arts and crafts and other learning experiences we offer, we also put together 45 care packages for our students and their siblings.
Help others and they might help you
In your own words, what is the mission of the RWF?
Our focus is to share the rich legacy of two historic giants so that future generations might be inspired; Eddie Rickenbacker, WWI Ace Pilot, Medal of Honor recipient and President of Eastern Airlines for over 34 years, and Granville T. Woods, a prolific African-American scientist. 
These two gentleman both came from very humble beginnings, and would eventually leave a mark in history that still reverberates today.
We try to honor their legacies by offering opportunities for personal development such as our award winning after-school program for elementary students, healthy cooking classes, financial literacy classes, summer aviation camps, and so much more; all of which are offered at no cost to participants.
Are there any other projects you're taking on to help the community in the Central Ohio area?
Access to affordable housing is a major issue all across our country, and the Columbus metropolitan area is not immune. That's why we partnered with the Buckeye Community Hope Foundation to create Kent Place Homes, a housing development that built 47 energy-efficient homes in Driving Park.   
We continue to be very much involved in the public policy conversation around affordable housing and serve as a template for other non-profits on how to create partnerships that deliver tangible results.
Why do you think community service is important, and why even more so in times like these?
I have learned two very important facts about life. The first is to see that the easiest way to move past a sad or terrible life circumstance is to help other people. How you decide to help others is your choice, however you will definitely feel good about yourself and it will help you count your blessings. 
The second is that what you do for others is returned to you, while not always by the same means that you gave, but giving to others definitely has its rewards. I just think community service is a pretty awesome way to give a gift to someone in need.
---
Know any more "silver linings"? Send us an email at Envoy.News@aa.com. We'd love to share your stories of perseverance and hope during this COVID-19 crisis.