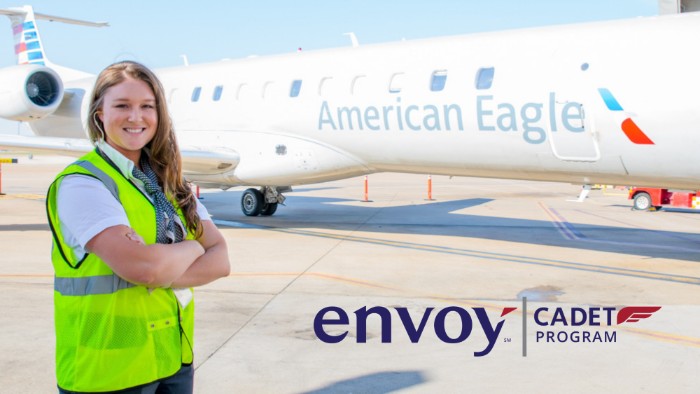 Students in Envoy's Cadet Program will join the growing network of the largest regional carrier of American Airlines
Envoy Air Inc., the largest wholly owned regional airline subsidiary of American Airlines Group Inc, continues its growth momentum this year as it offers up to $15,000 in bonuses to aspiring aviators who join the Envoy Cadet Program.
With the recent announcement that Envoy will operate three new Embraer E175 aircraft for American, the company's E175 fleet will grow to over 100 aircraft, with deliveries to be completed by the end of 2022. This growth represents a great opportunity for aspiring pilots to join Envoy and the growing network of American's largest regional carrier.
As a result of this growth, Envoy is launching an attractive program for existing and new cadets to earn $15,000 in bonuses, earn money while building flight hours, receive an on-boarding bonus, industry-leading training, comprehensive benefits, and free travel. Collectively this new bonus, combined with Envoy's existing First Officer bonus structure, creates an overall incentive package of $30,000 for joining Envoy as a cadet.
"We're building upon the strengths of our industry-leading Cadet Program and delivering more value to future pilots with this new bonus structure," said Capt. Ric Wilson, Envoy's Vice President of Flight Operations. "It is no secret that we hire the best of the best, and this program will allow us to continue offering the most promising future pilots a golden opportunity to make a smooth transition from the classroom to the flight deck of an Envoy regional jet, with a defined path to fly for American Airlines."
Envoy promises endless opportunities for pilots to develop their careers and an expanded flight network for a regional airline. In addition to the new E175s that will be added to the fleet, late last year, Envoy operated its first flight from Miami (MIA), its largest regional hub, to South America with E175 service to San Andrés, Colombia (ADZ). Envoy also added MIA service to Chetumal, Mexico (CTM), Dominica (DOM), and Anguilla (AXA). The expansion has continued this year with new service from Austin, Texas (AUS), to Montego Bay, Jamaica (MBJ), and Cozumel, Mexico (CZM). In addition to an attractive bonus, cadets will also have an opportunity to explore new destinations as part of their journey.
Close to 40 leading universities and flight schools have partnered with Envoy's Cadet Program, including: ATP Flight School, Auburn University, Bridgewater State University, CAE, Coast Flight Training, Cochise College, Cornerstone Aviation, CTI Professional Flight Training, Delaware State University, Embry Riddle Aeronautical University Daytona, Embry Riddle Aeronautical University Prescott, Florida Institute of Technology, Heritage Flight Academy, Illinois Aviation Academy, L3Harris Flight School, LeTourneau University, Liberty University, McAir Aviation, Northwestern Michigan, Ohio State University, Oklahoma State University, Purdue University, Sky Warrior, Skyborne Aviation, Southeastern Oklahoma State, Southern Illinois University, Thrust Flight, University of Central Missouri, University of Dubuque, University of Nebraska Omaha, University of North Dakota, University of Oklahoma, US Aviation Academy, Utah State University, Utah Valley University and Western Michigan University.
Envoy is currently hiring an average of 30 pilots per month, and eventual flow through to American is guaranteed with no additional interview required. With crew bases located in Dallas/Fort Worth, Chicago and Miami, Envoy pilots enjoy the ease of commuting, an extensive flight network and worldwide travel.
For more information on the Cadet Program and application requirements, visit envoyair.com/cadet-program, contact Envoy Pilot Recruitment at 972-374-5607 or email Envoy.Cadet@aa.com.
About Envoy
Envoy Air Inc. is a wholly owned subsidiary of American Airlines Group Inc. and operates daily flights to destinations throughout the United States, Canada, Mexico, the Bahamas and Caribbean. The company's more than 16,000 employees provide regional flight service to American Airlines under the American Eagle brand and ground handling services for many American Airlines Group flights. The company was founded in 1998 as American Eagle Airlines, Inc., following the merger of several smaller regional carriers to create one of the largest regional airlines in the world. Envoy is headquartered in Irving, Texas, with hubs in Dallas/Fort Worth, Chicago, and Miami, with a large ground handling operation in Los Angeles.
Connect with Envoy on Twitter @EnvoyAirCareers, on Instagram @EnvoyAirCareers, and on Facebook at Facebook.com/envoyaircareers and Facebook.com/EnvoyPilotRecruitment.