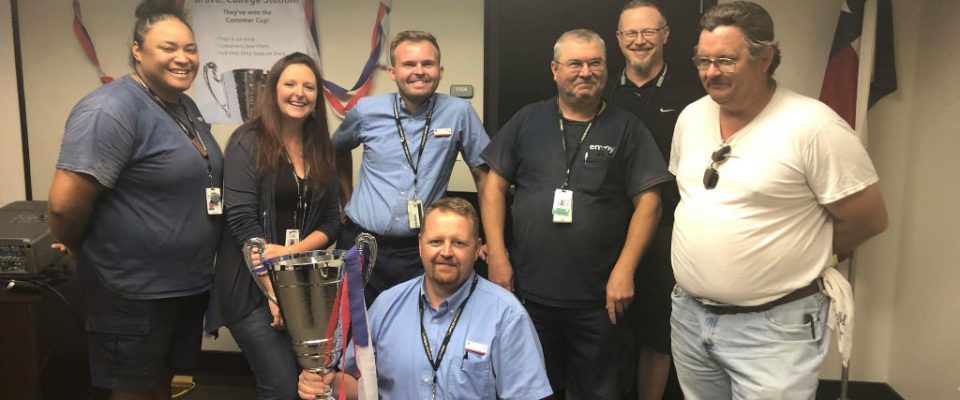 Pop-up thunderstorms, flight cancellations and other disruptions couldn't stop the Envoy team in College Station (CLL) from celebrating their American Airlines Customer Cup win for outstanding performance and customer satisfaction in the second quarter of 2019 (2Q19). The team outperformed the other stations in Category VI to bring the Cup to College Station, home of the "Aggies" – Texas A&M University.
"We have a friendly rivalry with Laredo, and we weren't satisfied with losing to them in the first quarter," explains CLL General Manager, Chris Sheffield. "The entire team pulled together to earn this win. When we found out, I even offered to drive out there to personally collect the Cup!"
On the morning of the celebration, weather issues in Dallas/Fort Worth (DFW) created many cancellations – including the morning flight to CLL. Undeterred, Envoy Senior Vice President, Customer Services, John Jaynes and Envoy Vice President, Customer Services Planning, Kevin Ward picked up a rental car and made the three hour (each way) drive from DFW to CLL and back again after the celebration.
"It really meant a lot to everyone that JJ and Kevin didn't want to miss out on the event," said Regional Managing Director, Raquel Alaniz. "Even though they couldn't stay as long as they'd have liked, it really brought home the significance of the win and what it means for the team and for Envoy."
This is the first time the team has won a Customer Cup, so this win came as big news for the station. The team earned their Cup by outperforming all five metrics, including an impressive 64.5% improvement in their Mishandled Baggage Ratio (MBR), a 46% decrease in customer complaints and improvements in their Departure Performance (D+0) and overall airport experience metrics, too.
"This isn't the end – we're on track for another win in the third quarter and now the team is motivated to win again," added Chris.
Way to go, team College Station. Gig 'em!