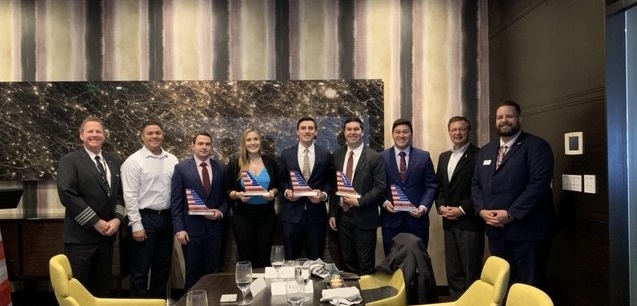 Last week, Captain Chip Long, American Airlines Managing Director of Flight Line Operations and First Officer Cory Glenn, American Airlines Senior Manager of Pilot Recruiting and Development, hosted a special luncheon to honor top-performing Cadet Pilots enrolled in an AAG Cadet Program.
Five Envoy Cadets were selected to be honored based on feedback from their peers, recruiters and partner schools, and each received a personalized trophy as a token of appreciation. In attendance at the award luncheon was Envoy's Vice President of Flight Operations Captain Ric Wilson, as well as the Manager of Partnerships and Outreach Martin Rottler.
And the awards go to…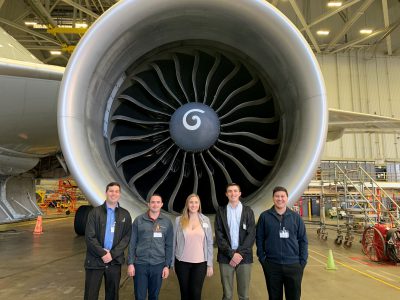 Alex Harrigan, Embry-Riddle Aeronautical University Daytona – Alex is a member of the Alpha Omicron Alpha Aeronautical Honor Society at ERAU, and has served as the PR Chair and Vice President. He is starting his ATP-CTP with Envoy in just a few weeks.
Cody Page, ATP Flight School Phoenix – Cody is a Cadet known for his positive attitude. He often volunteers with the Ageless Aviation Dreams Foundation, which gives flights in a Boeing Stearman to veterans in long-term care communities.
Jack Sullivan, Utah State University – Jack is a hardworking student who is always willing to lend a hand at recruiting events. He serves as a Flight Instructor, as well as a Fleet Service Clerk at the Logan-Cache Airport.
Erica Swenson, Le Tourneau University – Erica is captain of the Le Tourneau University Flight Team and a member of the Air Race Classic team. She is also an active member of Women in Aviation International.
Thomas Wolford, University of North Dakota – Thomas is a member of the Aviation Student Ambassador Program and a Cadet Instructor at UND. He has been a supportive presence at Envoy events.
Congrats to all of our Distinguished Cadets!