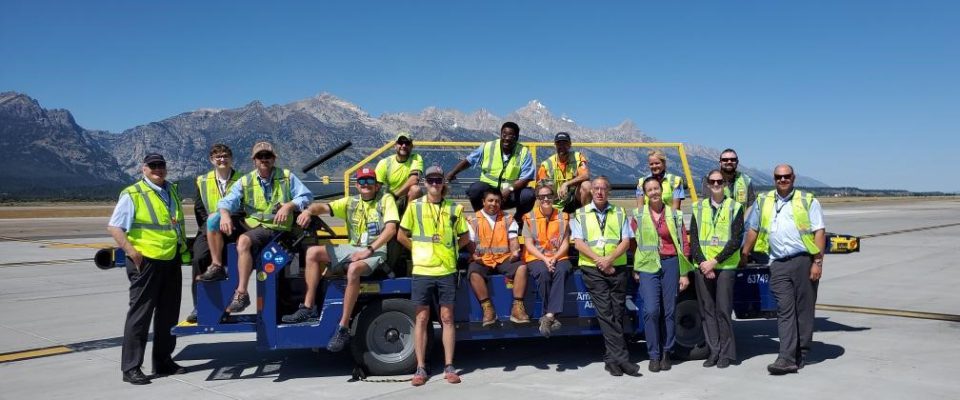 Did you have a great summer? Because the Envoy team in Jackson Hole, Wyoming (JAC) certainly did. Not only did the station receive straight "A" grades on their station scorecard for four months in a row, they've turned aircraft faster than their targets every month since March and received multiple compliments from customers and crewmembers alike.
"I have been a flight attendant for 33 years and I finally had the pleasure of flying into JAC this month," one American Airlines crewmember wrote. "Your ground staff is exceptional. In particular, I want to recognize Eden Morris and Billie Hooker, who were responsible for turning our [Airbus A319] aircraft in record time. We were two hours late out of Chicago…we managed to get back only about an hour late. This is all due to the JAC team. Thank you for your hard work!"
So what goes into creating a winning team in Wyoming? Hard work, coordination and caring for our colleagues and customers on life's journey.
"We like to think we're a little old fashioned out here," said JAC General Manager, Nicole Clancy. "When we work together to accomplish something it sure does make any situation better. We pre-plan and debrief every flight to see where we can improve and make our turns go smooth for everyone – including our crewmembers who have an important role to play. We're all a big team, and when we succeed, so does everyone!"
That hard work, communication and planning is paying off, with the team receiving a payout under American's Station Scorecard program for four straight months in a row.
American's Customer Experience team tracks a wide range of performance metrics to calculate the Station Scorecard, and rewards stations with cash to spend on events based on successfully meeting their operational goals. Everything from Safety, Compliance, Operational Performance and more goes into the Scorecard, and it's a big part of running a safe, compliant and high-performing operation.
"It's a team effort," adds Nicole. "When we're communicating and pulling in the same direction, everyone succeeds."
Way to go, team JAC!
Interested in joining the Envoy team?