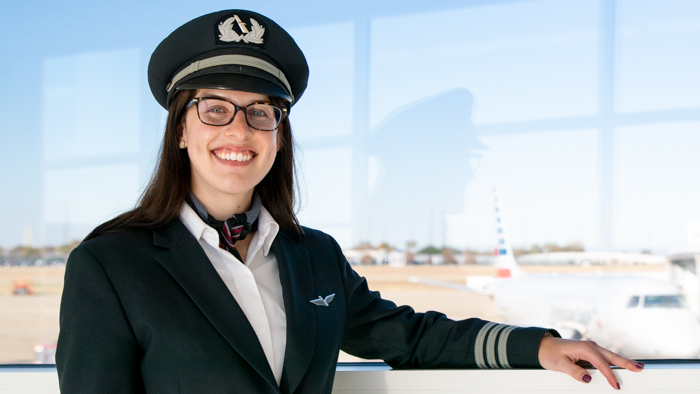 First Officer Jillian Clay is a woman who not only knows what she wants, but she's not afraid to go get it. With both of her parents as shining examples of life inside the airline industry, Jillian envisioned the path to where she is now – she just had to put in the hard work and effort.
Now a pilot on the Embraer 175, Jillian is a former Envoy Cadet and on the way to upgrading to Captain in a few months. Her tenacity, dedication and positive attitude have helped along the way, whether as a pilot, obstacle racer or horse rider, she's always a step in the right direction.
Right in front of you
In college at the University of South Carolina, Jillian hadn't quite yet landed on a career until her father took her on some very special trips during his final year at American Airlines. As a Captain on the Boeing 777, he flew Jillian all around the world to places like Germany, Japan and Argentina.
"Hanging out with the crews and seeing all these amazing places, showed me what the pilot life could be all about," Jillian said. "It began to sink in – I wanted this to be my life, too."
Her dad suggested that she at least take a discovery flight and see if she wanted to pursue her private pilot's license. After that first amazing flight, she figured it was better than any other option she had, so she went and achieved it.
Also playing a part in piquing her interest in an airline career, Jillian's mother had been a Flight Attendant for American Airlines for 20 years. In fact, her parents had met in Washington D.C. where both of them were based – so why not carry on the tradition, Jillian thought.
As many know, it's also a tradition to fly for the same airline as their parents, so it was only natural for Jillian to eye a future at American. First, she had to lay the groundwork, which began her venture into the Envoy Cadet Program.
Career of certainty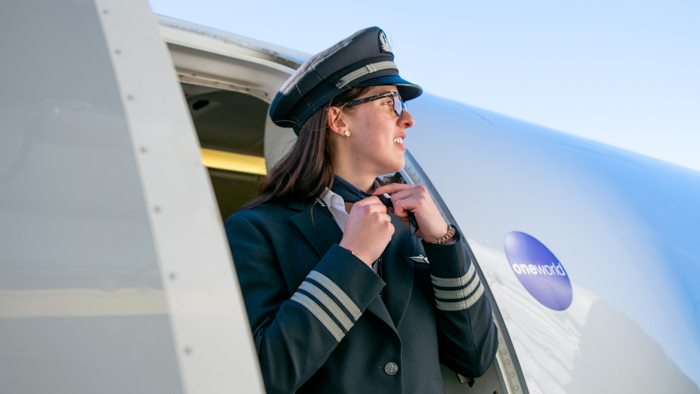 Drawn to the assured path from Cadet to a major airline pilot, Jillian quickly found her way to an Envoy partner school as a Certified Flight Instructor.
"The Cadet Program gave me the peace of mind knowing I didn't have to stress about multiple interviews," said Jillian. "You have someone cheering you on and helping you organize your path. My career always feels certain."
Even her mother, who had been retired from American, reconsidered joining Envoy as a Flight Attendant to accompany her daughter. Last year, Jillian and her mother worked their first flight together to Oaxaca, Mexico, and even her father was able to tag along.
Pass the passion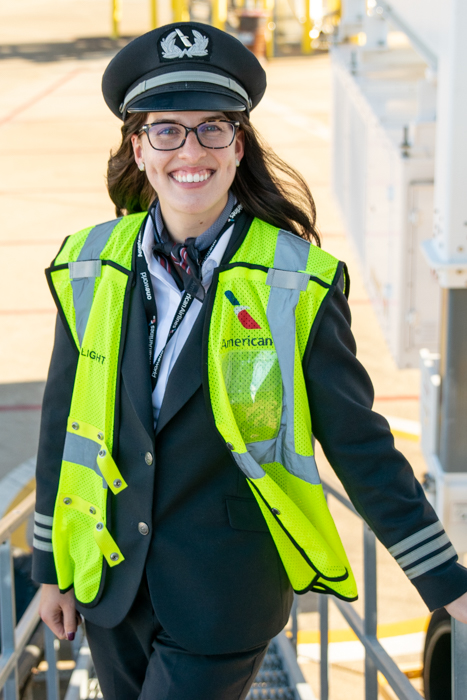 With strong role models such as her parents, Jillian aspires to pass along her passion for aviation to young people, especially young girls.
"I think it's my duty to set an example for the next generation," said Jillian. "It's incredible to meet little girls so interested in becoming pilots. I tell them to go hop in a plane, because you never know you might get that excitement I had. If they catch the flying bug, it can take their career all the way to a major airline."
As part of a growing group of women pilots, Jillian hopes the numbers get bigger and bigger and show the world that women can do anything, she said.
"I think as people begin to see more and more women on the flight deck, it becomes the norm," said Jillian. "I've seen it firsthand that flight schools are blossoming with women pilots – it gives me so much hope for the future."
Beyond the flight deck
Flying jets isn't the only thing Jillian does with vigor and dedication. As an avid athlete and competitor, she frequently competes in obstacle races such as Tough Mudder and the Spartan Races. She also has a history in equestrian competitions with her 10-year-old horse Quinn.
"There are similarities between flying a plane and horse riding, such as multi-tasking," said Jillian. "You have to be able to control the horse with all parts of your body, know their cues and expect the unexpected – just like flying."
Recently, Jillian has expanded her hobbies to working on experimental aircrafts with her boyfriend. Always interested in puzzles and problem-solving, she's drawn to the electrical wiring work where she can follow a diagram to reach her goal.
Right place, right time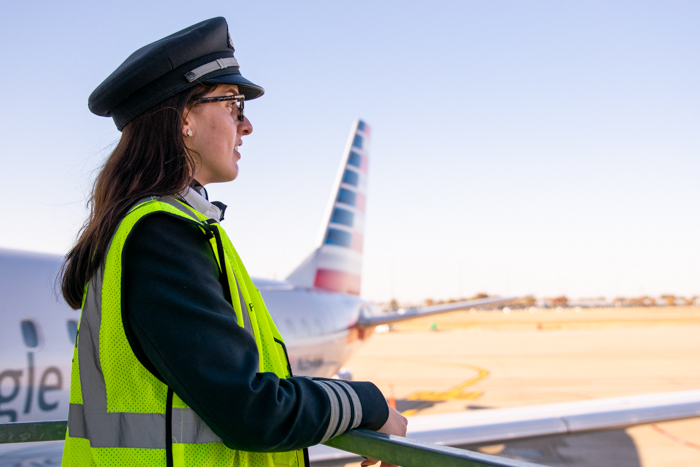 As a renaissance women of sorts, Jillian just wants to be herself and carry on a life that she's proud to live.
"My goal is to always be happy and healthy," she said. "I think I've achieved that with this line of work. Not many people can walk into work excited like it's the very first time."
With her eye on carrying on the tradition of flying for American, Jillian is poised to accomplish any goal she sets her heart on.