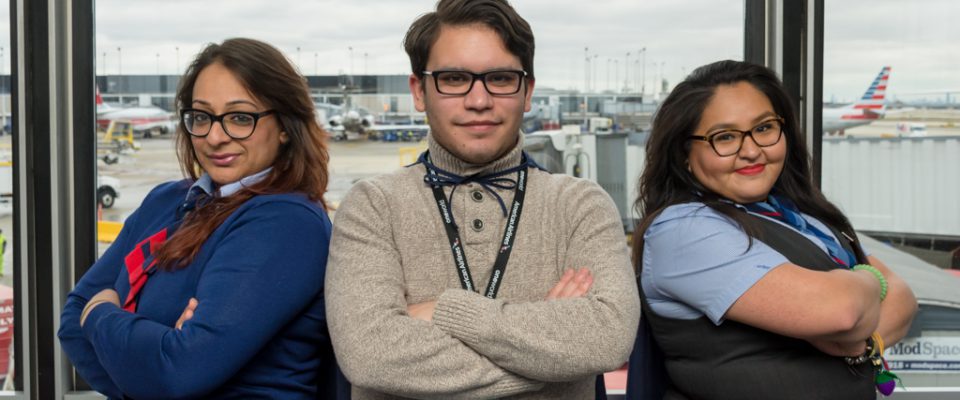 Thousands of customers travel through our stations every day. So when a customer from another airline experienced a medical issue in Chicago (ORD), teamwork, collaboration and know-how saved the day.
"The Manager on Duty (MOD) called me about a medical emergency at G17 and I just started running," said ORD Customer Services Supervisor, and now two-time Real American Hero winner, Alex Lopez. "When I got there, he was on the floor. We had to keep talking to him to keep him conscious."
There was just one small problem – the customer didn't speak English and professional medical assistance took almost 15 minutes to arrive.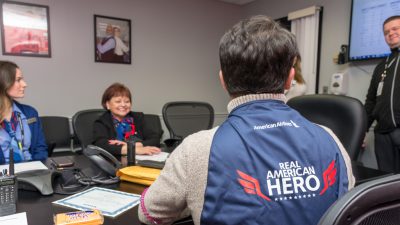 At the scene, Lead Agent Rodney Tabaniag used his training as an Emergency Medical Technician (EMT) to assist the customer, while Customer Services Agent Joanne Mendez ran to a nearby aircraft to grab an oxygen bottle to help revive him. "The oxygen helped bring him around," said Joanne. "He was scared since this was the first time this had happened to him."
With the customer more alert, Mahwish Murtaza helped translate to understand the customer's needs. "He was more concerned about missing his flight – he just wanted to fly!" said Mahwish. "He kept insisting he was fine, but we couldn't let him get on the connecting bus in the state he was in."
When medics arrived, Mahwish accompanied the customer to the hospital to offer assistance and get him the correct treatment for his condition. He was released the following day and returned to Qatar later that day.
On Monday, April 16, agents gathered around to present Alex, Joanne, Mahwish and Rodney with a Real American Hero award, which comes with a $1,000 cash prize and a very special hero cape. Thanks to everyone's teamwork and collaboration, a customer received some first-class coordination and teamwork during an unexpected medical emergency.
Here's to Alex, Joanne, Mahwish and Rodney – you're all heroes.
Special thanks to ORD Shift Manager Jon Farabee for submitting this Real American Hero nomination for the team.